About Undead Norm
Undead Norm follows an office worker named Norm whose life became more exciting after he died! As one of the first infected of the zombie outbreak, he finds adventure as he meets and eats interesting people along the way! Where will his shambling take him next?
About the Creators
Current Creative Team: TBA
Chapter 1: Writer/Colorist: Christine Brunson; Artist/Letterer: Melanie Sexton
Chapter 2: Writer/Colorist: Christine Brunson; Artist/Letterer: Melanie Sexton
Chapter 3: Writer: Christine Brunson; Artist/Letterer: Michael Link Jr.
Christine Brunson (Co-Creator) is actually quite scared of horror movies but loves comics. In order to help overcome her phobia of zombies and making comics, she decided to make a zomedy one. Luckily she met SCAD graduate Melanie Sexton who was hungry to make some comics as well. Together they teamed up and set Norm on his first adventure when they launched the webcomic on January 9th, 2012! After many awesome comic pages and conventions, Melanie found herself called to another career so she departed for her own adventures.
Norm was not without an artist for long due to the talented Michael Link Jr subbing as an artist for Chapter 3! He did a phenomenal job and added a few new characters to the cast. Sadly, he too was pulled into a different direction and had to retire from the comic.
The comic sat for a few years as Christine was working on other comics but was not forgotten. Now as the comic reaches its 10th anniversary, Christine will be taking over the artist duties but will be getting a letterer friend to help her! The announcement of the letterer will come closer to Chapter 4 being released.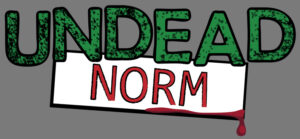 The original Undead Norm logo was created by Christine Brunson with help from Melanie Sexton in 2011.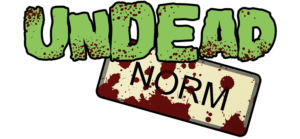 The updated logo was designed by Michael Link Jr. in 2015.
Thank you to Scott Brunson for helping update the website and providing moral support to the writer!